Planter with Irrigation & Drainage Built In
Measuring almost 3 feet by 4 feet, this is a large vertical garden that resembles a pallet garden. The main difference is that all of the structure, irrigation and drainage is already installed for you. Extra sun-loving plants that may need more space can even be grown out of the top of the container.
Factors to consider when choosing plants: besides the visual element of your garden, Rosemary Alexander, author of The Essential Garden Design Workbook, says that gardeners should think about the non-visual qualities of plants, such as scent, sound, tactile appeal and of course food production.
Simple, Lightweight Vertical Planters

Florafelt is an indestructible nylon felt that is very lightweight – the entire 2 foot by 3 foot vertical wall garden weighs only 1.5 pounds. The special fabric helps with drainage and keeps plants healthier.
This planter includes separate pockets, ideal for herb gardens or varieties that you want to plant separately.
Wall Planter Concealed by Plants
You can also arrange multiple planters side-by-side to create a large living wall effect.
Upright, Stand-Alone Flower Towers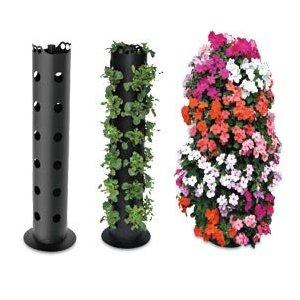 Towers are a popular way to grow a free-standing vertical garden without the need of a wall or fence. They are sometimes called "garden sticks", and you can build your own using a 6″ pvc pipe from your local home improvement store.
What's cool is that you can buy a flower tower kit in small sections that attach to each other to achieve the height you want. They come with pre-drilled holes and irrigation hose already in place. This means easier construction and set up.
Garden with Removable Planter Containers
It's easy to re-arrange the inner containers depending on the plants you are growing, and you can remove containers entirely for cutting herbs in your kitchen or replanting.